How To Scale Your eCommerce Store To 6 Figures Per Month With Social Media Advertising
Chin Gregory eCommerce Accelerator™
The Chingregory.com Accelerator is a consulting and training program hybrid consisting of 3 parts. A step-by-step action plan, weekly consulting calls and access to a private community of successful entrepreneurs. The program is designed to scale brands to their first $1M.
The Accelerator is for eCommerce brands, direct-to-consumer SMEs and entrepreneurs who already have an established business with customers, but want to drive more sales and revenue from sites like Facebook, Instagram, YouTube & LinkedIn.
The Accelerator is housed in an online portal containing all the tutorials, training videos, tools, templates. The weekly consulting calls are held via webinar and our entrepreneur community is in our closed door group.
You systematically go through the action plan, watch the tutorial videos, and use the provided tools and templates. Ask questions in the Fb group or on the live consulting calls, follow the process, get results.
The Accelerator starts the moment you enroll. You can complete it in your own time and work through it as fast or slow as you wish
We created The Accelerator because most brands are clueless when it comes to cracking cold traffic and scaling their revenue. This bridges the gap between "do-it-yourself" info available online and our "done-for-you" agency services.
To successfully scale your store with social media marketing, content is not enough, you need an immersive environment. The Chingregory.com eCommerce Accelerator™ provides you with a proven process, team training, community, and expert mentorship.
Proven Real World Results
Does the eCommerce Accelerator™ actually work? The processes used in the program have generated millions in revenue for brands all over the world.
Social Media Advertising Campaigns Created
Revenue Generated For Our Clients
eCommerce Accelerator™ Program Content
In under 8 weeks we'll help you scale your store and turn it into a machine. Here's how:
Interactive entrepreneur community
Join an energetic community of ambitious eCommerce owners on the same wavelength as you. Entrepreneurship is lonely when you're surrounded by "normal people" who just don't get it. Get inspired, ask questions, generate ideas, make friends and have fun!
Exclusive resources and assets
Assets, templates, scripts, and workflows! These are the exact same resources we use in our 7 figure agency to manage over $400k per month in ad spend. Everything we use on a day to day basis, you get in Accelerator.
Expert consulting on-demand
Get 12 months of personalized mentorship from experts who can troubleshoot your problems and provide direction. The Accelerator includes weekly Q&A calls, recordings, client interviews, livestream sessions and 24/7/365 support.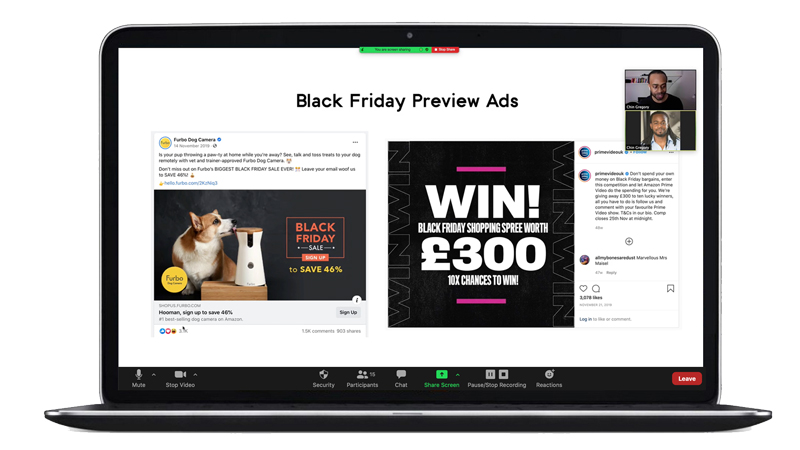 Here's what Some of our clients are saying
Kim
Owner of Al Shams Abayas
A.D. Dolphin
CEO of Dherbs Inc
Adam
Co-Founder of Grove Hawaii
If you're ready to level up your store by creating paid social campaigns that acquire customers and drive revenue, click the button below to get a free demo.
This site is not a part of the Facebook website or Facebook Inc.
Additionally, This site is NOT endorsed by Facebook in any way. FACEBOOK is a trademark of FACEBOOK, Inc
Copyright © TheCGMGroup.com. All Rights Reserved.